Get Well Flowers
Letting someone know you're thinking about them when they're sick or feeling down can make such a difference. Send your friend or loved one the gift of flowers to lift their spirits. Get Well Soon gift baskets are another great choice. We can fill them with juice and snacks, which is perfect for someone needing their bed rest. PETALS, FLOWERS & MORE can deliver to all local hospitals as well as homes in Macon and even across the country! Give us a call, stop by, or shop online! We have everything you need for Get Well wishes.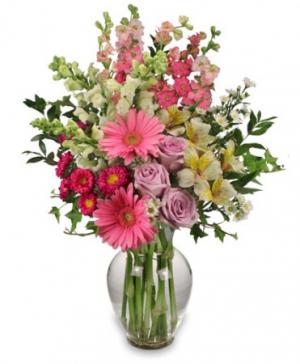 Amazing Day Bouquet
Spring Flowers
Flowers Can Bring a Smile, Give You Comfort or Make You Laugh, and Springtime is a Great Time to Send Some to the Ones You Love. Call PETALS, FLOWERS & MORE Direct or Order Beautiful Spring Blooms Now from Our Website.
Order within 5 hours 5 minutes for Same Day Delivery!
Hospitals and Health Care Providers in Our Delivery Area:
---

Name
Address
Phone

---

Agape House Personal Care Home
1542 Jeffersonville Rd Macon, GA. 31217
(478) 741-1674
Angels At Home
435 Second St Macon, GA. 31201
(478) 746-1018
Baptist Village
5953 Plantation Villa Dr N Macon, GA. 31210
(478) 477-0630
Beacon Pointe Alzheimer's Care
250 Charter Ln Macon, GA. 31210
(478) 471-9433
Bel-Arbor Health Care
3468 Napier Ave Macon, GA. 31204
(478) 477-4464
Belair At Macon
4901 Harrison Rd Macon, GA. 31206
(478) 474-5620
Beverly Health Care
505 Coliseum Dr Macon, GA. 31217
(478) 743-8687
Bolingreen Nursing Ctr
529 Bolingreen Dr Macon, GA. 31210
(478) 477-1720
Carlyle Place
2195 Ingleside Ave Macon, GA. 31204
(478) 471-7747
Charter Behavorial Health Syst
577 Mulberry St Macon, GA. 31201
(478) 207-2700
Cherry Blossom Health Care Ctr
3520 Kenneth Dr Macon, GA. 31206
(478) 781-7553
Children's Hospital
777 Hemlock St Macon, GA. 31201
(478) 633-7463
Children's Hospital
Po Box 6000 Macon, GA. 31208
(478) 633-1771
Coliseum Medical Ctr
350 Hospital Dr Macon, GA. 31217
(478) 765-7000
Coliseum Psychiatric Ctr
340 Hospital Dr Macon, GA. 31217
(478) 741-1355
Eastview Nursing Home
3020 Jeffersonville Rd Macon, GA. 31217
(478) 746-3547
Emergency Center
Po Box 6000 Macon, GA. 31208
(478) 633-1146
Hartley Woods Health & Rehab
3051 Whiteside Rd Macon, GA. 31216
(478) 788-1421
Health South
3351 Northside Dr Macon, GA. 31210
(478) 471-3500
John-Wesley Villas
5471 Thomaston Rd Macon, GA. 31220
(478) 477-4424
Kendrick Home
1016b Ell St Macon, GA. 31206
(478) 788-8193
Macon Northside Hospital
400 Charter Blvd Macon, GA. 31210
(478) 757-8200
Macy Retirement Ctr
4408 Houston Ave Macon, GA. 31206
(478) 781-7091
Magnolia Manor Of Macon
200 Pierce Ave Macon, GA. 31204
(478) 743-0178
Med Center Downtown
Po Box 6000 Macon, GA. 31208
(478) 633-1160
Medical Center Of Central Georgia
777 Hemlock St. Macon, GA. 31201
(478) 633-1000
Memorial Nursing Home
1509 Cedar Ave Macon, GA. 31204
(478) 743-4678
Middle Georgia Hospital
Po Box 6278 Macon, GA. 31208
(478) 751-1111
Middle Georgia Presbyterian
Po Box 868 Macon, GA. 31202
(478) 474-0025
North Macon Health Care Fclty
2255 Anthony Rd Macon, GA. 31204
(478) 784-7900
Peake Health Care Ctr
6190 Peake Rd Macon, GA. 31220
(478) 471-7474
Peake Health Care Ctr
1060 Clinton Rd Macon, GA. 31211
(478) 471-7474
Spain Personal Care Home
3075 Antioch Rd Macon, GA. 31206
(478) 788-0771
St Paul Apartments Inc
1330 Forsyth St Macon, GA. 31201
(478) 745-0829
Sulfur Springs Retreat-Elderly
1154 Magnolia Dr Macon, GA. 31217
(478) 741-7590
Sun Garden Care Ctr
2950 Millerfield Rd Macon, GA. 31217
(478) 741-5541
Villas At College Hill
684 Arlington Pl Macon, GA. 31201
(478) 745-7971
Vineville Christian Towers Inc
2394 Vineville Ave Macon, GA. 31204
(478) 743-4661
Whispering Pines
Po Box 129 Bolingbroke, GA. 31004
(478) 994-0382
Gray Nursing Home
Po Box 175 Gray, GA. 31032
(478) 986-3151
Lynn Haven Nursing Home Inc
747 Monticello Hwy Gray, GA. 31032
(478) 986-3196
Miller & Son Personal Care Hm
136 Salem Church Miller Rd Gray, GA. 31032
(478) 932-1008
Golden Pond Personal Care
8167 Eisenhower Pkwy Lizella, GA. 31052
(478) 935-3906